Project:
Job System (E-Office)
The purpose of this project is to track the activity in the office. This is mainly focused on the company-client relations such as: project schedules or client management, as well as a regular office routine such as time sheets or vacations.
Every aspect of an office activity is framed within this project.
This is definitely the biggest project I have been developing yet it is NOT even close to be as sophisticated as others, even smaller projects I have had built or had taken a part in its construction/development.
The Job System is a continuous project; every now and then -or when requested by a client- I modify it, add new features or update it with the newest web solutions available.
Programmed for my former company. Informations are confidential, therefore Clients' names and Team Members' names (with the exception of mine) were blurred. This description shows few functionalities only, the job system consists of few dozens of small and large scripts and functionalities.
NOTE: Originally there was another, pararrel or sister, system created specifically for the Client, with limited views and actions (projects of his concern only). When logged in to the system the client would have been a part, in real time, of the office life, just like the regular in-house employees.
The above is fixed. Please view the the video reel below.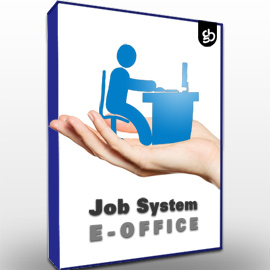 Skills used:
coder
designer
programmer